Sophisticated methods and a great deal of skill –
show how young you feel.
Gentle and sophisticated medical procedures offer you a variety of ways to come closer to your personal ideal.
To change without losing yourself – this is our common goal.
Our practice specialises in the field of aesthetic dermatology.
Learn more here:
Skin Rejuvenation


Combined procedures and cross-linked hyaluronic acids, polylactic acid, botulinum toxin, designed peels and mesotherapy help to soften lines and wrinkles. Sophisticated methods and a great deal of skill ...

Volumising & dermal fillers


Create more skin volume without surgery – help your skin to regain freshness and elasticity

Laser & light therapy


State-of-the-art laser technologies, consolidated at our laser centre – customised to your individual wishes. Find out how you can get rid of little wrinkles, troublesome skin and vascular changes, or tattoos.

Treatment of spider veins & telangiectatic rosacea (couperose)


Learn which methods are best for treating fine vasodilation on the legs (spider veins) or in the face (couperose).

Anti-cellulite treatment & fat reduction


What can be done against orange-peel skin and little fat pockets.

Dermato-cosmetics & medical beauty


How you can enhance your skin, improve its texture or take better care of it and protect it in the future.
Aesthetic dermatology

-

pleasure and joy derived from beauty

A beautyful face is a silent recommendation
Each face has its own way of ageing, and the "good old days" leave loving traces on all of us. Relaxed laugh lines around the eyes or mouth – they often let our character shine through.
Look kindly on the lines and wrinkles that look good on you – the ones that make you look more interesting or even more attractive. We should, however, talk about those wrinkles that are a nuisance or even a burden to you. Furthermore, state-of-the-art laser methods offer additional opportunities to re-stimulate the production of the body's natural collagen and thus obtain a visibly smoother skin surface (skin rejuvenation).
Take a look at the services we offer in the field of skin rejuvenation:
Wrinkle and elastosis therapy (measures to correct wrinkles, loss of skin tone and diminishing elasticity)
Botulinum toxin & hyaluronic acid (relaxation of expressive facial areas and volumising with natural connective tissue components)
Chemical exfoliating procedures (biological or chemical peels)
Mesotherapy (a customised vitamin cocktail for your skin)
Microneedling (collagen induction therapy [CIT])
Preserving the freshness and naturalness of your skin is important to us.
With our specialist experience in the field of volumising and wrinkle treatment, we will respond to your needs and give you comprehensive and individual consultation.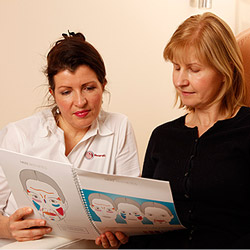 We work with a diversity of methods and materials to restore contours. This creates interesting new treatment options. But which one is the right one for you? Polylactic acid, cross-linked hyaluronic acid products, collagen stimulants ... ?
Ask for our competent and professional advice – advice from a doctor you trust, who understands you, who knows her craft and who has long-standing experience in this field. A doctor who listens to you, who weighs the risks with you and who explains which treatments are appropriate and which are not.
The aesthetic procedures we offer include:
Décolletage & hands


How to get a beautiful décolletage and youthful hands.

Wrinkle & elastosis therapy


How to eliminate annoying wrinkles and revitalise the elasticity of your skin.

Liquid lifting


How to regain volume and promote the production of endogenous collagen with the help of different active substances.

Lip contouring


How to get beautiful lips and emphasise your natural look.

Collagen production


How to gently rejuvenate your skin using the newest methods of a medical spa.
Show how young you feel!
Talk to our experienced specialist Dr. Christina König. We offer a comprehensive range of modern and highly effective methods for wrinkle treatment and skin rejuvenation.
Enhance your well-being. We'll be happy to advise you — comprehensively and holistically.